The lord & master himself....Nick Saban...has spoken.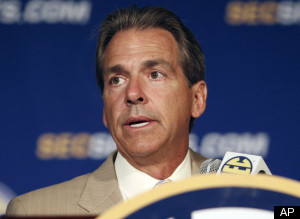 HOOVER, Ala. — Nick Saban didn't pull punches Wednesday when discussing the improper contact with athletes by unscrupulous agents, comparing their behavior to that of a "pimp."
The Alabama coach was upset about the rash of recent agent-related incidents that have resulted in NCAA investigations at several Southeastern Conference schools.
"I don't think it's anything but greed that's creating it right now on behalf of the agents," Saban said in a rant at the SEC media days. "The agents that do this – and I hate to say this, but how are they any better than a pimp?
"I have no respect for people who do that to young people. None. How would you feel if they did it to your child?"