Are you as tired of Geno Auriemma and the Uconn womens basketball team...as we are?

Geno.....nobody wants to continue to pay to see your team beat the field by 50 points.

You have reached the pinnacle....You get the best players.......You win every year.


It's boring.

When you decide to coach real men......in a real league...we may start paying attention ......again.

Until then.......just ....shut up!


Geno Auriemma: 'I Think We Have A Real Spoiled Group Of Fans'
STORRS, Conn. -- Connecticut fans may have seen their last NCAA tournament game in Storrs for a while.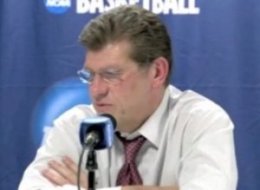 Coach Geno Auriemma, disappointed that fewer than 6,000 fans showed up at the 10,000-seat Gampel Pavilion for UConn's second-round win over Purdue on Tuesday, said he will ask athletic director Jeff Hathaway not to bid on hosting the tournament for the next five years.
Auriemma said asking fans to attend a regular season, Big East tournament and first two rounds of the NCAA tournament in Connecticut is a lot.
He joked that it might help if UConn won more games. The team has lost one game in the last three seasons.
"I think we have a real spoiled group of fans," Auriemma said.
Pat McKenna, a spokesman for the team, said Wednesday that Auriemma was serious about asking not to host the tournament, but has not yet spoken to Hathaway.