It is a gorgeous spring day in this small, southern, college town. Temps in the upper 70's...No humidity.

No flies...or pesky insects.

Absolutely wonderful. Wish we could can these type days and open them up when the rainy season overwhelms us.

Anyway...some "stuff" ...that made us pay attention to sports these past 2 days.

From our friends at the Huffington Post:


We still love a good baseball fight...Even if no punches are thrown:

So Missing Craig Sager:
Blake Griffin...is an idiot!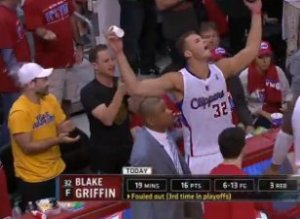 Happy Trails....Hurricane!
And....finally...Check out Sir Charles' reaction to the Indiana Pacers loss to the 8th seeded Atlanta Hawks: